News is supposed to be dark and heavy, but I'm not feeling it today. For me, the breaking news is that Mexico City was just hit by an earthquake but it was fortunately a very small one, unlike some other quakes in recent memory. As the adrenaline induced by the seismic alarms fades, it is replaced by a euphoric gratitude for life that colors my stained-glass perspective. Read on for some lighthearted and ultimately unimportant coverage of the stories of the day.
Congressional Testimony Released, Politics Is Fun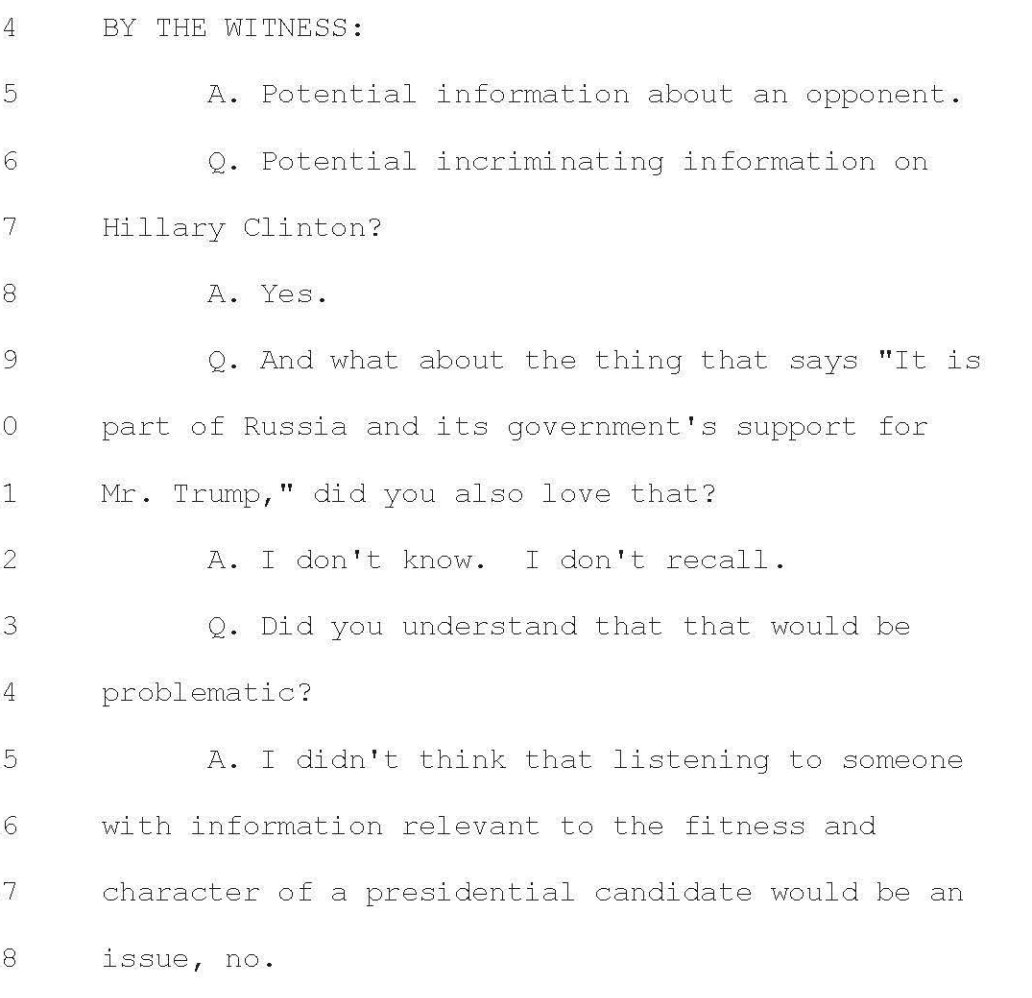 Obligatory Trump story of the week: the U.S. Senate Judiciary Committee just released thousands of pages of testimony that sheds some light on the infamous meeting between Trump Jr. and a Kremlin lawyer two years back. As usual, the info coming out probably is not as damning as impeachment-hungry liberals think it is but a little more damning than collusion-denying conservatives say it is. For the rest of us, it's a fun peak at how ridiculous politics usually is.
Trump Jr. told congress that he told his Russian contact he would love dirt on Clinton. In his defense, who wouldn't love dirt on their opponent? On the other hand, he probably could have chosen his words more carefully. Maybe he should have watched the Godfather a couple times before getting into politics. You don't say "I would love it if you gave me the skeletons in Hillary's closet so I could beat her to death with them", you say "I believe Hillary is a worthy and honorable opponent, it would be a shame if you told me something different." Plausible deniability, man.
The testimony also has other sources in the room confirming Jr.'s main defense: that the meeting was a failure since no useful information was shared. It's an odd defense because the story is basically that they tried to collude with Russia but Russia let them down, so technically they're innocent.
One of the most fun pieces of info is the sheet of notes Paul Manafort took during the meeting. They're written in short-hand and could literally be interpreted to mean ANYTHING, so look forward to both sides coming up with elaborate Westworld-fan-theory-level explanations. My favorite lines are consecutive: "illici" followed by "active sponsors of the RNC". Make from those what you will.
Finally, probably the only really important info: a lot of the information was collected by the investigation immediately after the meeting two years ago and only became known to the media today. Whichever team you're rooting for, know that we're seeing the game at a huge time delay compared to the principle players.
Internal Clock Is A Thing, Says Science
I've spent years tinkering with my daily schedule, trying to figure out what works best and what is easiest to follow. Lately I've been paying more attention to research on natural rhythms. I believe strongly in the power of habit, and for a long time I thought the key was simply doing the same thing at the same time every day. The actual timing, I thought, was arbitrary: whether you go to the gym at 7 in the morning or 7 at night, the habit will form if you're consistent.
There's some proof to that, but I've gotten good results incorporating natural rhythms into my schedule. Whether it's placebo is up for debate, but still. It may sound like New Age mumbo-jumbo, but science has found that certain aspects of our body are on a clock. We produce testosterone in the morning and melatonin in the evening. It remains unclear how much of this clock is internal and how much is regulated by external stimulus.
This story focuses on how strongly mental illness might be linked to the internal clock. To vastly oversimplify things, a person might feel depressed if they're body thinks they should be asleep when they're awake. The reality of modern society is that the majority of people don't get to set their own schedule. School, work, and other obligations set restrictions on when you can sleep, eat, exercise, and so on.
The question going forward, then, is how much does society need to change to accommodate these natural rhythms, and how much can we alter our natural rhythms with external stimuli (e.g. blue-light machines in the morning) to match society?
Hearthstone Balance Changes Shake Up the Meta
This story takes the "fun and games" theme literally, and isn't exactly news to anyone who doesn't play Hearthstone (although apparently it's going to be a new Olympic sport, so interest in the game may rise). I'm not as much interested in the actual changes, though, as a pattern I've noticed in the way people talk them.
Hearthstone is a card game and in it's main game mode, you build your decks beforehand. The result is that each time new cards are released, the best players quickly figure out the best decks and all the other players have the power to copy them. These decks become the meta. At almost every level of play from beginner to professional you usually see the same decks being played at a given time. That's not a flaw with the game; it's inevitable. Still, people who play a lot complain that playing the same meta decks against the same meta decks over and over starts to feel stale.
The new balance changes aim to disrupt the most powerful decks my making their key cards a little weaker. That's good for the health of the game since you don't want any card to be overpowered. On the other hand, it will likely only be a week or two before the top players work out a new set of meta decks and we all follow suit.
What I've noticed is that people seem to be talking less about the actual power levels of the cards and more about how it will feel fun to play with fresh decks. When the game began, they made changes to cards when necessary, but not on a consistent basis. Now it basically feels guaranteed that we will see changes halfway through each expansion cycle. At first it felt like they were saying"we made a mistake" but now I get a different feeling: the cards they're fixing weren't necessarily broken, but they were causing the same decks to be powerful for too long. Having these consistent balance changes means each expansion cycles will have two defined metas, and we all get to play with new cards more often.
It's an interesting way to think about game balance, and about life in general. Sometimes the point isn't to change things to be better–sometimes the real benefit is just that there is a change. Things need to be shaken up now and then.